Okay I guess I'll just go with these tiny thumbnails until I can figure out how to fix my pictures. Here are some pictures from Sweet Pea's first time to trick or treat. She was less than thrilled to get dressed up and have to go. Actually we thought about calling the whole thing off but we decided to try it out for a minute and see how she did. We went to Nana & Papa's house first and between the truck and the house she threw down her bag three times and kept fussing. Well we got up to the door and I just put the bag in her hand then Papa gave her the candy. This is what happened after that.
This is her excited face when she realized that if she held up her bag she would get candy. You could not believe how excited she got. She started grinning and clapping and running around. It was the best thing to see her having such a blast.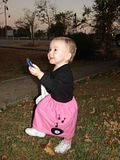 She kept pulling out her candy and showing it to me. She was beyond excited and from that moment on she was a trick or treat pro. She refused to let go of her bag for the rest of the night. So we went downtown and did the trick or treat scene there and then out to grandma & grandpa's house. It was clear that Halloween had become her very favorite holiday!