Yep that's right, I'm another year older now. Do I feel it? Well if you ask first thing in the morning then the answer is yes. However, it really surprises me sometimes to think about my actual age. Time seems to just fly by and really its hard to believe.
I had a great birthday weekend though. We decided to go out and celebrate on Saturday since more things would be open than if we waited until Sunday. MIL watched the baby so we could spend the day out. We went to Red Lobster for lunch so I could finally have some crab legs. I have been wanting them literally since we came home from Hawaii so it was great to get them. Then we went shopping and dh bought me entirely too much craft stuff. I got new yarn, hooks, stitch markers, knitting looms and a bunch of other things. Then we went and had dessert while we were waiting for the movie showtime. We watched Fool's Gold and it was hilarious. Definitely a movie I would watch over and over. Sunday dh got up and fixed breakfast for me and I got to just stay home, relax and work on some of my many projects. I actually managed to finish one...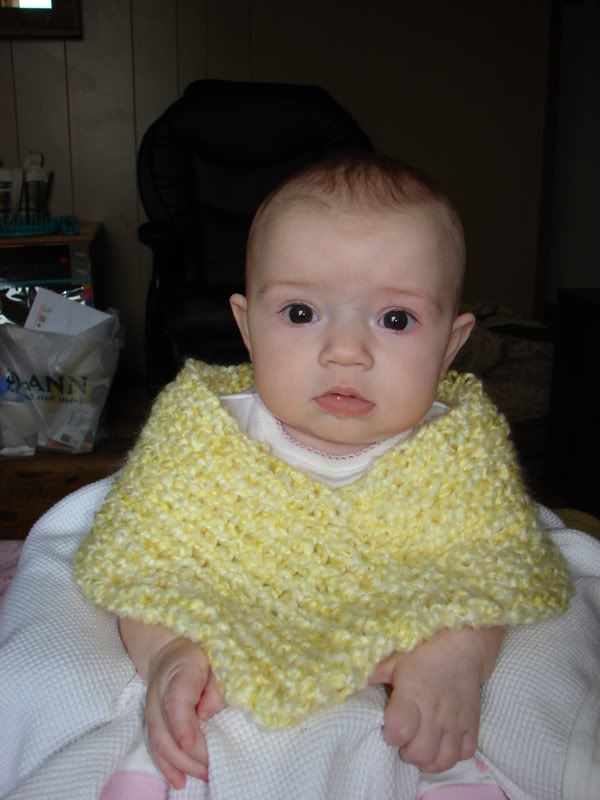 I made this poncho on my knitting loom out of Lionbrand Homespun in Lemonade. It worked up really quickly and is very soft. She doesn't look too enthusiastic to be modeling it for me though! Dh informed me that it was silly for a baby to wear a poncho, which I agree with but I really wanted to try to make one anyway. So really this project was more for me than her. But its still cute, of course the adorable model doesn't hurt any!